Contact Us
Get your 5 Safe Driving Points today!
We are the most affordable, safest, and experienced driving school and driver improvement service in Virginia Beach and Hampton Roads.
Joyner's is DMV/AAA Approved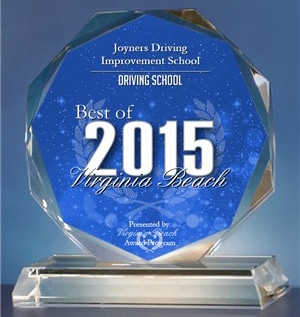 Winner of the 2015 Award For Best Driving School
Read the press release
Thank you for visiting the website of our driving school. We're proud that our students receive the most up-to-date training modules that lead them to become safer drivers and own improved traffic records. Our proven methodology behind-the-wheel and in the classroom is approved by the Virginia Department of Motor Vehicles. Whether you are a new an inexperienced driver or someone looking for 5 Safe Driving Points, contact us today. Please feel free to call and ask about our services. We look forward to serving you.
Still have questions? No problem! Contact us today – we're happy to help!
---
Joyner's Driving Improvement School
800 Newtown Road Suite 110 Virginia Beach VA 23462
Call 757-275-7177