Online Traffic School
Our DMV-approved online traffic school is now open! Fix your traffic record at your convenience.
We are the most affordable, safest, and experienced driving school and driver improvement service in Virginia Beach and Hampton Roads.
Students of any age in the Commonwealth of Virginia are approved to take Online Traffic School as long as DMV or the courts approve their taking the class.
Some courts require certificates. It is the student's responsibility to get approved. We will email your certificate to you within 24 hours of your completion of the course — do not wait until the night before court! If you want a paper copy from us, there will be a fee of $5 per copy.
All students taking court- and/or DMV-ordered online Traffic School must submit a copy of the order/letter to us — this is mandatory. Scan or take a picture and email to us
Online Traffic School – $75.00
Payment is required before starting the online driver improvement course.
You will be redirected to the registration page after completing payment via the PayPal button above.
Already registered? Click here
We know that you're busy, which is why we've developed a DMV-approved curriculum to help you improve your driving record from the comfort of your own home. Our online traffic school programs supports Hampton Roads, including Virginia Beach, Norfolk, Chesapeake, Portsmouth, and more.
We know how you feel. You didn't mean to violate a traffic law. Sometimes, mistakes just happen. Unfortunately, that mistake could cost you more than just money. That traffic ticket could result in points on your driving record and increased insurance premiums.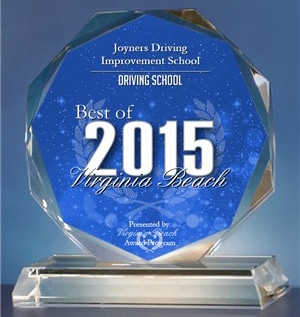 Winner of the 2015 Award For Best Driving School
Read the press release
As if that's not bad enough, fighting that traffic ticket can add to your frustrations. With the traveling involved in attending a classroom defensive driving course or traffic school, it's no wonder so many drivers just face the consequences instead of fighting a traffic ticket.
Avoid all the problems of getting and fighting a traffic ticket with Online Traffic School and Defensive Driving Online. Click the button above to sign up for the most convenient online, DMV-approved traffic program on the Internet. We have successfully helped thousands of drivers like you across Virginia. By taking our simple, easy-to-follow online traffic school and online defensive driving course, you'll gain peace of mind knowing that you are well on your way to a clean driving record — quickly and easily.

Our online traffic school is certified to give 5 DMV points and meets the requirements of a court order or other DMV requirement. Frequently Asked Questions 1. How long is the course and is there a final exam? The course is designed to fulfill the 8 hour state requirement. There are different units in the course each followed by a review quiz. Unlimited retakes are available on the final exam and an 80% is required to pass. You you fail the test – don't worry – you can retake it after a 24-hour waiting period. 2. Is this course Virginia State approved?/ Yes, 3 A Methods, one of our partner developers behind the online traffic school, is an approved provider. We are approved by the state of Virginia and Department of Motor Vehicles.