Get 5 Safe Driving Points Or Fulfill Your Mandatory Requirements Today!
We're Voted The #1 Defensive Driving Program In Hampton Roads. We serve students in Norfolk, Virginia Beach, Chesapeake, Suffolk, Newport News, Portsmouth, and surrounding areas.
Joyners Defensive Driving Safety Training
Nobody knows driver safety training like Joyners Driving School. Joyners Driving School has created an entertaining defensive driving course that has changed the way students view defensive driving classes.
Safer Drivers: Safer Roads
Motor vehicle collisions are the leading cause of death and injury in the workplace and the cost of a single accident could easily exceed $1.4 million. A defensive driver safety program can reduce risk and keep people safer on the road.
Defensive Driving Safety Training has proven to be an effective solution to:
Control liability costs associated with work-related vehicle crashes
Reduce insurance premiums and fleet repair bills
Reduce motor vehicle incident rates
Decrease workers' compensation claims
Improve productivity by keeping employees safe, on and off the job
Protect your brand by improving public perception of your driving practices
New employee or refresher training
Remote, onsite and customized training
Online & Classroom Flexibility for ease of scheduling and student participation
Joyners Driving School Defensive Driving Safety Training provides:
Leading-edge curriculum for greater comprehension and content retention
Cost effective training solutions for organizations of all sizes
Immediate and post-incident training, when timing is crucial
About Your Virginia Driver's Ed Course
Course Curriculum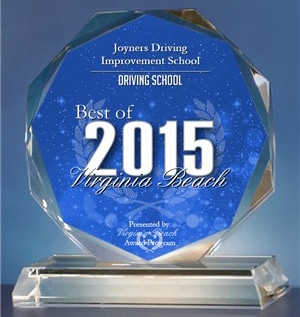 Winner of the 2015 Award For Best Driving School
Read the press release
Virginia driver's education covers:
Drug and alcohol abuse and safety.
Aggressive and distracted driving.
Pedestrian, bicycle, and motorcycle safety and awareness.
Classroom & Behind-the-Wheel Hours
No matter how you complete your VA driver's education course, the program will include:
36 periods of classroom instruction.
14 periods of in-car instruction. These each and consist of: 7 periods of driving, AND
7 periods of observation.
Once you complete the course, a completion certificate will be submitted to the VA DMV and provided to you by your instructor. If you are younger than 18 years old, your parent will need to sign the certificate before you can obtain a Virginia driver's license.

Contact your local Virginia DMV for more information.